Operation Verso A4 RFS with Power Dock
Verso A4 RFS can be operated as a mains (AC-line) independent unit. The accessory equipment Power Dock comprises a high-performance battery package with integrated charging unit as well as an independent processor for battery management and monitoring of the modelling light. The unit can be attached to the bottom of the power pack. Apart from the charging time and modelling light the functions of the unit and the characteristics of the output are no different than on mains power operation. Automatic switch-off of the power pack after a selectable Data sheet waiting time (sleep mode). Variable settings of the on time of the modelling light are possible to protect the rechargeable battery.
Scope of delivery
Power pack with built-in RFS interface, mains cable, operating instructions, dust cover Not included in the scope of delivery and therefore to be ordered separately: Power Dock for Verso A4, Transmitter RFS, Transceiver RFS]
Application
All types of professional flash photography indoors and outdoors of the studio. The unit is designed as a mains (AC-line) operated studio flashlight unit which can be converted to a mains independent power pack.
Broncolor Scoro A4s 3200w/s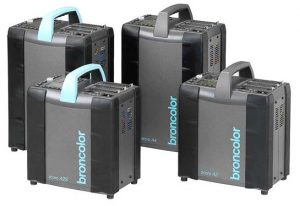 Scope of delivery
Power pack, mains cable, operating instructions, dust cover.
Application
Therefore, a new area in creative design has been opened which is only possible with the Scoro power packs. The extremely short flash duration and recharging time on reduced flash energy, as well as the low temperature increase (even with a short flash duration), make the Scoro power pack ideal for fashion shoots and long flash sequences.
Broncolor Grafit A4 plus 3200w/s
Scope of delivery
Power pack with main cable, operating instructions and dust cover.
Transmitter RFS and Transceiver RFS must be ordered separately.
Special features
Built in RFS interface
Automatic colour temperature control, called CTC.

The auxiliary functions may be used for example for:
alternating release to reduce flash sequence times using two power packs ( pingpong mode)
fast strobo sequences (can be used as quasi-continuous light to assess precisely shadow edges, etc.)
Application
Grafit A power packs allow interesting shots which go beyond the characteristics and options of conventional units by combining flash sequences, delays, etc.. This opens up a new range of creative activities which can be applied only with the Grafit A power packs. The very short flash duration and charging time with reduced flash energy plus the extremely low heat build-up in spite of a very short flash duration make the Grafit A suitable for fashion photography where long flash sequences are applied. For users of digital photo systems, the power pack Grafit A4 RFS offers totally computer-controlled shooting.